Research Progress
Wang Liwei team from SCI and Xue Jing team from Renji Hospital cooperatively released the latest achievements in immunotherapy for pancreatic cancer in the renowned journal Cell Discovery
日期:
2021-07-09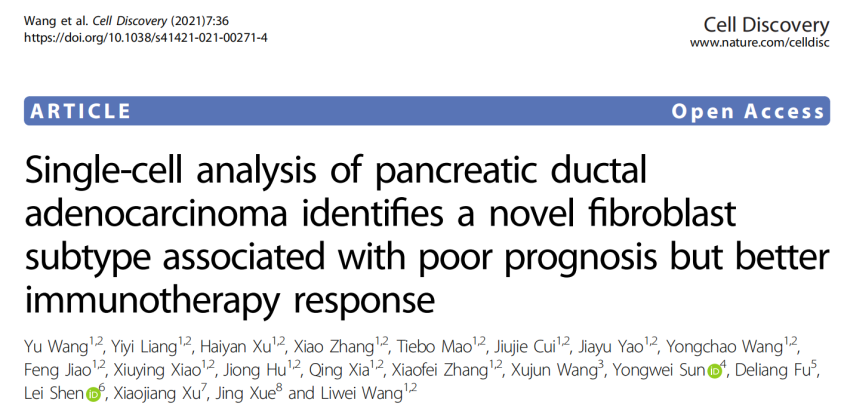 The latest achievements in immunotherapy for pancreatic cancer were released online in the illustrious journal Cell Discovery (IF: 10.849) subordinate to Springer Nature cooperatively by Prof. Wang Liwei, a principal investigator from the state key laboratory of Shanghai Cancer Institute (SCI) and the Department of Oncology of Renji Hospital Affiliated to Shanghai Jiao Tong University School of Medicine, and Xue Jing team from the Stem Cell Research Center of Renji Hospital. The research group firstly identified a novel fibroblast subtype of cancer-associated fibroblast (CAF) (named meCAF) through single-cell sequencing and related clinical studies, which has abnormal glucose metabolism levels, and screened biomarkers for predicting the efficacy of immunotherapy for pancreatic cancer.
Pancreatic cancer has an extremely high degree of malignancy, and the effective treatment means are lacking at present. Immunotherapy has good efficacy in treating many tumors, but its efficacy is far from satisfactory in pancreatic cancer, and its mechanism and target population remain unclear. Previous studies have established that pancreatic cancer stroma may be an important cause of insensitivity of pancreatic cancer to multiple drugs, especially immunotherapy, and CAF serves as the primary cellular component therein. Prof. Wang Liwei team firstly analyzed various cellular components in clinical pancreatic cancer tissue specimens and identified a novel CAF subset (meCAF) using the single-cell sequencing technique. The further analysis results showed that the subset had abnormally increased glycolytic capacity and interacted with each other to affect the glucose metabolism of tumor cells and T cells, ultimately influencing the efficacy of immunotherapy for pancreatic cancer. The results of this study are expected to help more precisely screen the target population for immunotherapy and improve the efficacy of immunotherapy in pancreatic cancer as well as provide novel targets and ideas for the immunotherapy resistance of pancreatic cancer. The related achievements in this study have been patented and will be clinically corroborated and translated.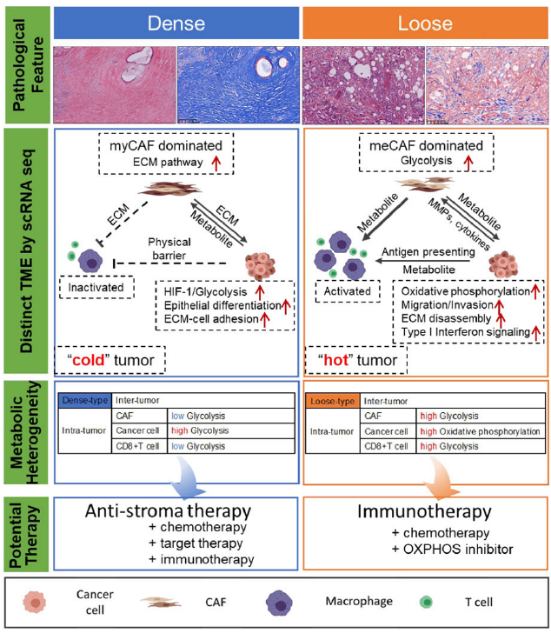 The first completion unit of this paper is the State Key Laboratory of SCI of Renji Hospital Affiliated to Shanghai Jiao Tong University School of Medicine. Wang Yu, A physician, Dr. Liang Yiyi and Dr. Xu Haiyan from Renji Hospital Affiliated to Shanghai Jiao Tong University School of Medicine are the co-first authors. Prof. Wang Liwi and Researcher Xue Jing are the corresponding authors. The team of Prof. Wang Liwei has been dedicated to the clinical diagnosis, treatment and translational research of digestive system tumors, especially pancreatic cancer for a long time, while the team of Researcher Xue Jing has been long dedicated to the epigenetic and immunoregulatory research of the development and progression of pancreatic cancer.
The present study was funded by projects from National Natural Science of China, Collaborative Innovation Program of Shanghai Municipal Health Commission and Key Clinical Specialty.
Link :https://www.nature.com/articles/s41421-021-00271-4