Associate Professor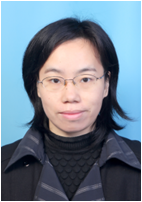 姓名
杨小妹
性别
女
专家类别
硕士生导师
学历
博士
职称
副研究员
联系电话
021-34206022
电子邮箱
xmyang@shsci.org
通讯地址
上海市闵行区东川路800号文选楼419
个人简介
杨小妹,博士,副研究员。 2003毕业于南京大学与中国药科大学联办的生物制药强化班专业学习,获得理学学士学位; 2010年于中科院上海生命科学研究院硕博连读,从事肿瘤微环境与肿瘤进展方面的研究,获得博士学位。2010年至今,于上海交通大学医学院附属仁济医院上海市肿瘤研究所"癌基因及相关基因国家重点实验室"的神经递质与肿瘤微环境研究组工作,主要从事肝癌发生发展相关机制的研究。工作期间,以第一作者/共同第一作者/通讯作者发表多篇 SCI 论文,其中主要文章发表于Gastroenterology, Journal of Hepatology, Cancer Research等杂志上。主持多项国家自然科学基金、上海市科委基金以及上海市卫生计划委员会面上项目,并作为主要骨干人员参与"十二五"重大专项子课题一项。
科研论文
1. Yang XM, Cao XY, He P, Li J, Feng MX, Zhang YL, Wang YH, Yang Q, Zhu L, Nie HZ, Jiang SH, Tian GA, Zhang XX, Liu Q, Ji J, Zhu X, Xia Q, Zhang ZG. Overexpression of Rac GTPase activating Protein 1 Contributes to Proliferation of Cancer Cells by Reducing Hippo Signaling to Promote Cytokinesis, Gastroenterology 2018;155:1233–1249.
2. Zhang YL, Li Q, Yang XM *, Fang F, Li J, Yang Q, Zhu L, Nie HZ, Zhang XL, Feng MX, Jiang SH, Tian GA, Hu LP, Lee HY, Lee SJ, Xia Q, Zhang ZG Zhang, SPON2 Promotes M1-like Macrophage Recruitment and Inhibits Hepatocellular Carcinoma Metastasis by Distinct Integrin-Rho GTPase-Hippo Pathways, Cancer Res.2018; 78(9):2305-2317.
3. Ye J, Chen W, Wu ZY, Zhang JH, Fei H, Zhang LW, Wang YH, Chen YP, Yang XM*. Upregulated CTHRC1 promotes human epithelial ovarian cancer invasion through activating EGFR signaling. Oncology Reports 36, no. 6 (2016): 3588-3596.
4. Zhu L, Tian GA, Yang Q, De GJ, Zhang ZG, Wang YH, Nie HZ, Zhang YL, Yang XM*, Li J. Thyroid hormone receptor beta1 suppresses proliferation and migration by inhibiting PI3K/AKT signaling in human colorectal cancer cells. Oncol Rep. 2016 Sep;36(3):1419-26.
5. Yang XM*, You HY, Li Q, Ma H, Wang YH, Zhang YL, Zhu L, Nie HZ, Qin WX, Zhang ZG, Li J. CTHRC1 promotes human colorectal cancer cell proliferation and invasiveness by activating Wnt/PCP signaling. Int J Clin Exp Pathol. 2015; 8(10): 12793-12801.
6. Li J, Yang XM*, Wang YH, Feng MX, Liu XJ, Zhang YL, Huang S, Wu Z, Xue F, Qin WX, Gu JR, Xia Q, Zhang ZG. Monoamine oxidase A suppresses Hepatocellular Carcinoma metastasis by inhibiting the adrenergic system and its transactivation of EGFR signaling. Journal of Hepatology, 2014 Jun;60(6):1225-34.
7. Dou XQ, Yang XM*, Li P, Zhang ZG, Schönherr H, Zhang D, Feng CL. Novel pH Responsive Hydrogels for Controlled Cell Adhesion and Triggered Surface Detachment. Soft Matter, 2012,8, 9539-9544
科研项目
1. 核仁蛋白HEATR1通过调控核糖体合成促进肝癌发展的机制研究,国家自然科学基金面上项目, 2020.01-2023.12,主持
2. Tuftelin 1调控脂肪酸代谢促进肝癌进展的作用机制研究,上海市科委自然科学基金项目, 2019.07-2022.06,主持
3. 细胞分裂关键蛋白RacGAP1促进肝癌生长的功能和机制研究,上海市卫生计划委员会面上项目, 2018-01~2020-12,主持
4. 胶原样分子CTHRC1 在肝癌微环境中的功能及其分子机制,国家自然科学基金青年基金项目, 2012-01~2014-12,主持